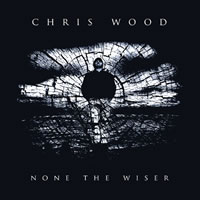 Andy Gill – INDEPENDENT ★★★★★
"Wood is one of our finest songwriters, a brilliant exponent of the topical troubadour form, and rarely on better form than he is with None the Wiser. The title track alone is a masterpiece"
Martin Townsend – EXPRESS ★★★★★
"Wood has honed his songwriting to perfection here… Each sung phrase is weighed with care… heartbreaking purity."
Siobhan Long – THE IRISH TIMES ★★★★★
"Nobody comes even close to equaling his bird's-eye-view… a distilled and intimate collection of snapshots chronicling the sweetness of love, the fragility of sanity, the glories of ageing and so much more."
Robin Denselow – THE GUARDIAN ★★★★
"one of Britain's most uncompromising and original singer-songwriters… his latest album is remarkable for the settings as much as the lyrics."
Colin Irwin – MOJO Album of the month ★★★★
"…such a rarefied talent, both as writer and interpreter."
TIME OUT
"Quite simply our best writer of contemporary English folk songs… What other BBC Folk Award-winning singer writes like this? There's no competition as far as we're concerned."
Julian Piper – ACOUSTIC
"…unlikely to be on David Cameron's iPod but Woody Guthrie would have been proud."
SONGLINES – TOP OF THE WORLD!   

Neil Spencer – THE OBSERVER
"defeated… glum… trades his former wit for bitterness"
Like all of Chris' work this album has the feel of a social document.
His 50 date tour with Joan Armatrading at the end of 2012 allowed him to eavesdrop and observe Britain from coast to coast and many of the songs give testament to what he encountered.
Bass and Hammond organ are called in to drive a bunch of short songs off the page and into the world.
A robust, individual response in the face of fiscal and political meltdown, this is almost like a pub band singing the hymns and anthems of a disaffected people.
VIDEO: Chris talks about being 'None The Wiser'
Track listing:
None The Wiser
Jerusalem
The Sweetness Game
A Whole Life Lived
The Little Carpenter
Thou Shalt
Tally of Salt
I Am
The Wolfless Years