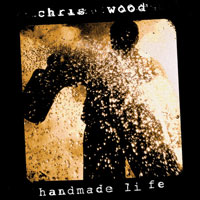 Track Listing:
No Honey Tongued Sonnet
Two Widows
Spitfires
My Darling's Downsized
Asparagus
Hollow Point
Caesar
Johnny East
Turtle Soup
The Grand Correction
Last summer Chris was invited by the Arts Council to put together a band for an album and a 2009 tour. The album is called Handmade Life – the band are…
Andy Gangadeen – drums
Barney Morse Brown – cello
Robert Jarvis – trombone
"It really needs to win an award. The band is a marvel"
The Independent ★★★★
The band met while playing alongside Billy Bragg in The Imagined Village last year, Simon Emerson describing Chris's work as "Bardcore!"
If Wood is viewed by some as uncompromising then the songs on Handmade Life confirm this position. However, alongside the signature edgy and political material there are an equal number of personal stories, songs which are delicate and subtle and expertly realized by this unique line up.
This new material, both lyrically and sonically consolidate Chris Wood's growing reputation as a writer and composer of stature. Though now a long way from his "folk" beginnings he nevertheless continues to celebrate the "ordinary" with a rare gift for articulating the wonder in the commonplace. Handmade Life is a refreshingly celebrity free zone.